Research
Waterjet cutting
Patented technology:
High demands on hygiene and cutting precision cannot be met by previous, conventional cutting techniques. As part of a research project, a patented waterjet cutting technique was therefore developed that sterilely cuts food according to previously defined patterns. In the process, the optical contours of the product are automatically recorded in order to minimise the amount of waste cut. The transfer of microorganisms and contamination of the cut surfaces is thus avoided.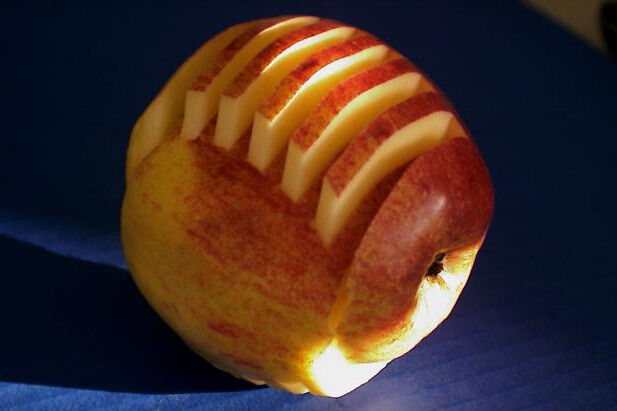 Aims of the project:
The focus is, among other things, on automating the preparation process and thus increasing product quality, product safety and thus product hygiene. By means of optical object recognition, each product is cut according to individual parameters so that product losses are minimised. This increases the yield, work performance and productivity of the process.
Project
Implementation & Result
Digitally controlled 3-axis robot with optical contour recognition
Combination of image processing, separation technology and automation
Hydraulic parameters: Pressure, diameter, flow rate
Cutting parameters: Speed, jet distance, cutting angle
Clean separation of peel and fruit
High colour consistency of the cut surface
Low roughness of the cut surface
Aesthetic product
Funding note
Further information