Several tonnes of fresh produce per batch:
The chamber dryer puts an end to the previous high energy costs for drying - and does so with first-class product quality. The excellent overflow air guidance and the preselectable recirculation mode not only reduce the specific energy requirement, but also guarantee uniform drying throughout the chamber dryer - without turning the product and thus without crumb losses and high labour requirements. High efficiency of the components used is the basic prerequisite for the targeted low specific energy requirement. Therefore, only selected components from leading European manufacturers are used, which also represent a guarantee for robustness, operational safety and performance - essential for professional use.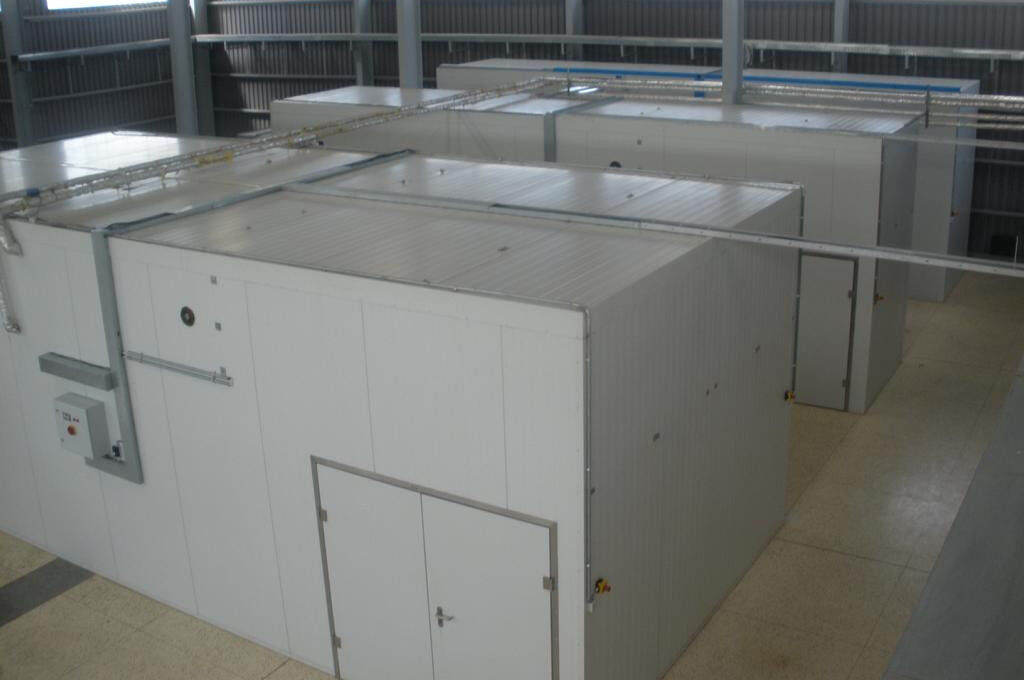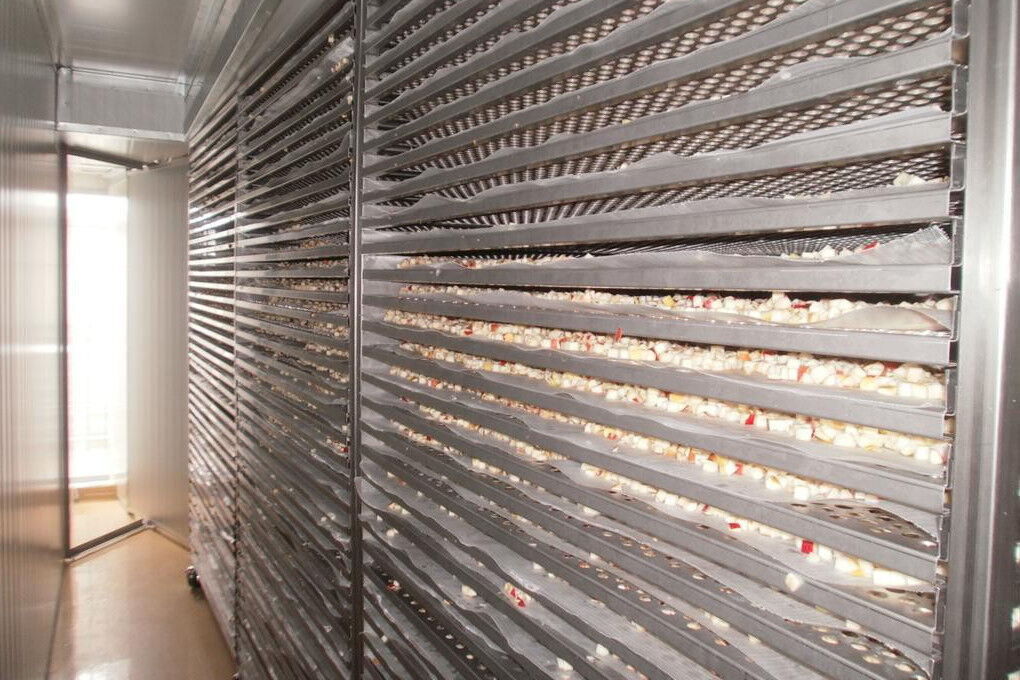 Innovative technology with high benefits:
The special feature of the system is the continuous recirculation of the drying air, to which fresh air is mixed in a pre-selectable, defined manner. Heat is supplied to the circulating drying air via an air-water heat exchanger installed in the upper part of the chamber dryer. Gas, heating oil, wood, solar energy or the waste heat from a combined heat and power unit (CHP) can be used to generate heat. The drying air is circulated by means of two high-performance fans with an air flow of up to 20,000 m3/ h. After mixing, the drying air is fed vertically to the actual drying chamber. Up to 10 trolleys with 30 drying boxes each can be placed in the drying room.

The trolleys are arranged in two rows in a wedge shape. This type of arrangement results in a uniform supply of drying air over the entire inlet cross-section. The air flows around the products, not through them. This results in a lower flow resistance in the bulk, which leads to a low electrical energy requirement of the fans and a particularly gentle and uniform drying. The chamber dryer is loaded and unloaded from the processing room via separate sliding doors. This procedure enables semi-continuous operation of the system.
Features
Benefits & Power supply
The INNOTECH chamber dryer is characterised by:
a structure made entirely of thermal insulation panels,
a small floor area,
a flexible adjustment of the drying capacity to the crop size,
the simple loading and unloading of the drying chamber by means of trolleys,
the quasi - continuous operation "First in - First out".
In addition, the chamber dryer offers a high degree of flexibility in the provision of thermal energy. Optionally with:
gas heating,
oil heating,
regenerative energy sources (solar energy or wood),
waste heat from e.g. CHP units.
By using highly efficient, modulating gas condensing boilers in single or cascade connection with hydraulic separator, the heating output is automatically adjusted to the heat demand.
Dryer:
Länge:

10 m

Width:

2,20 m

Height:

3,50 m

Chamber material

100 mm PU thermal insulation panels

Material of the false ceiling:

40 mm PU thermal insulation panels

Doors:

2 sliding doors, approx. 1.90 m wide

Interior equipment:

10 V2A tray trolleys incl. tray plates
Technical room:
Length:

3 m

Width:

2,20 m

Height:

2,50 m

Room wall material:

40 mm PU thermal insulation panels

Doors:

0,90 m x 2 m
Technical equipment:
Circulating air fan:

2 high performance axial fans

Exhaust flap material:

Duropal

Control:

Temperature control & 24 h timer

Standard heating system:

2 modulating gas condensing boilers with 65kW each, air-water heat exchanger