Preserving valuable habitat through economic use:
Creeping orchards are an important part of our cultural landscape and have developed into a habitat which, due to its ecological structures, provides a niche for a variety of animals to survive. Unfortunately, the traditional cultivation of scattered orchards remains a not very lucrative business, as the production of must and juice provides only low revenues. Many meadow orchards must therefore be abandoned by their owners. Today, natural and gently dried fruit is once again a sought-after foodstuff - a traditional treat for in-between, for hikers or during the winter season. Dried in a modern dryer under hygienic conditions and in an energy-saving way, specialities such as apple rings, pear slices and dried plums appeal to new customers at markets, in farm shops or delicatessens and thus enable the economic use of the scattered fruit.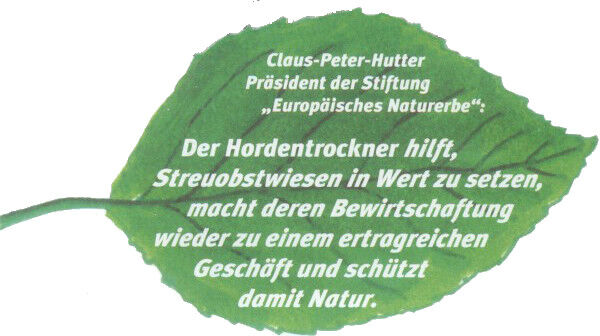 Agriculture must become worthwhile again:
The drying systems developed in close cooperation with the University of Hohenheim are specially sized for agricultural use, are easy to operate and dry the fruit laid out on the racks evenly and particularly gently. This preserves vitamins as far as possible and makes the dried fruit a valuable foodstuff. The special quality of the dried fruit produced allows it to be marketed profitably and thus makes the system highly economical. Nature and culture go hand in hand in our orchards. They have shaped our landscape for decades and provide tasty apples, pears and plums, which are a great source of natural enjoyment and much more. Orchard meadows are not only wonderful landscapes to experience, but also home to little owls, redstarts, hedgehogs and weasels, making them some of the most valuable habitats in our cultural landscape. However, ecology alone is of little use if the economy is not right. That is why orchards must remain profitable for their owners.
Diversity, quality and independence:
Not only the valuable fruit varieties of our region are a sought-after foodstuff when dried - herbs, mushrooms and flowers are also ideal for drying and profitable marketing, for which there are numerous possibilities: Talk to us, we will advise you. The tray dryer is available in different sizes, as HT mini and also as a car trailer. This makes joint use possible in order to achieve rapid amortisation. Ask also about renting and leasing.